Ouch, that hurts!
The Australian Workers Union claim of the Southern Cross being central "to the working class" is true. But do you have to be a member of a union to be considered working class? Certainly not according to logic and figures.
So according to the above ABS figures, the majority of "working class", whose values count the most? It just so happens to be in industries mainly made up of, how do we say this, middle to upper-middle class backgrounds: a drastic change to what constituted the working class back in the day.
Working class champions of the past. William Guthrie Spence (7 August 1846 – 13 December 1926), Australian trade union leader and politician, played a leading role in the formation of both Australia's largest union, the Australian Workers' Union, and the Australian Labor Party.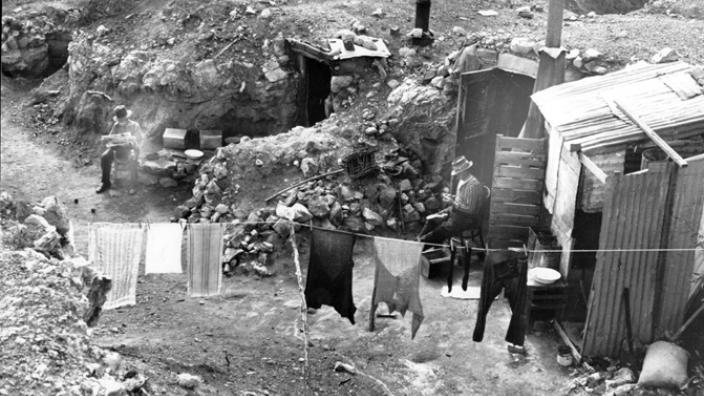 Working class 1890s.
More Australian working class from the late 1890s.
Do today's unions represent the working class spirit it was sworn to protect? The spirit that saw hundreds and thousands of returned servicemen and working-class White Australians doing it tough between the two world wars and long before? You know, the ones that sacrificed all to uphold silly things like The White Australia Policy, better work conditions for Australians, and a better life for their families. The central beliefs that made this country "The Lucky Country" and united us.
Working class 1930s
Ah yes, those were the days when the working class actually worked at building a great nation; a working class much like today's real majority working class who are now leaving unions in record numbers out of total disgust. That is of course unless you have attended Indoctrinate University, which has campuses right across the nation. In that case, you may just be in that top two-percent of union membership.

Real working class demonstrating, how many are Union members? No Union flags at this demo.
Today's legitimate working class are constantly stalked, harassed, and made unemployable by a consortium of left-wing politicians; social justice warriors; Anarcho/Marxists; and middle class drug-fucked uni students. The Australian working class of today are continually punished and persecuted because their traditional backgrounds put them at odds with today's PC culture and Cultural Marxist ways. In other words they are harassed into submission, or left to go hungry on the street, while refugees are housed, clothed, and fed ahead of them.
Working class 2015, so we are led to believe.
Maybe it's about time the working class took back the Unions for themselves and spoke with a voice that truly represents them.